Goran Dragaš






The artist's main field of interest is in the area of migration and post-migration societies over a longer period, the deviations they can cause or do in fact cause, and the mentioned physical phenomenon.
The loss of one's place (in the world?), annulment of identity, confiscation of homes, forcible displacement, and escape are just some of the numerous topics the artist has touched upon in his previous projects.
Continuing to deal with migration in the contemporary society, Dragaš tries to depict migration as an incessant civilizational flow, as well as its impact on the individual and their emotions, which are reflected in the unknown. Is integration possible? What should it look like? What kind of values does a society affected by waves of migration adopt? These are the questions that the artist is trying to answer, and the root of the answers lies in the migration process itself.
GORAN DRAGAŠ
Born: 1972, Sisak, Croatia
Lives and works in Belgrade.
EDUCATION
2009  MFA Graphic Art at the Faculty of Fine Arts, University of Arts, Belgrade
2005  BFA Painting at the Faculty of Fine Arts, University of Arts, Belgrade
SOLO EXHIBITIONS
2016
Heim, Goethe institute, Belgrade, Serbia
2015
Hunting, Cultural Center Požega, Požega, Serbia
2014
RUECKREISE, Podroom Gallery, Belgrade, Serbia
SELECTED

GROUP EXHIBITIONS
2019
Both There and Here, Belgrade Cultural Centre, Belgrade, Serbia
2017
Inner migration, Dado gallery, National Museum of  Montenegro, Cetinje, Montenegro
Inner migration, Poola gallery, Pula, Croatia
New Technology of thinking, Pančevo City gallery, Pančevo, Serbia
12th Biennial of aquarelle, The National Museum & Contemporary Gallery Zrenjanin, Serbia
2016
Lucca Art Fair, Lucca, Italy
2016
INNER MIGRATION, Gallery Duplex 100m2, Sarajevo, Bosnia and Herzegovina   
2015
Inner migration, POPUP Osijek, Croatia
2013.
GP1, Gallery Prototipe, Belgrade, Serbia
2011
24th Year exhibition,  Gallery 73, Belgrade, Serbia
2009
Shine, Gallery of the Faculty of Fine Arts, Belgrade, Serbia
2008
Pure expression, 13th Biennial of Art, The Cultural Centre and The Gallery of Contemporary Art, Pančevo, Serbia
2007
1st International Biennial of mixed media, Artist pavilion "Cvijeta Zuzorić", Belgrade, Serbia
International Biennial Exhibition of Prints, SKC Gallery, Belgrade, Serbia
2005.
May Exhibition of Printmaking, GRAPHIC COLLECTIVE Gallery, Belgrade, Serbia
Purchase Prize Exhibition, City Hall of Belgrade, City Department of Art, Belgrade, Serbia
2004
Small Print Exhibition, GRAPHIC COLLECTIVE Gallery, Belgrade, Serbia
2003
XXXII Exhibition of drawings and small plastics, Gallery DOB, Belgrade, Serbia
COLLECTIONS
2006  Belgrade City Museum
2014  Telenor Collection
2016  Benetton Collection
Požega City Gallery Annual Catalogue
Požega City Gallery, 2015
84 pages, Serbian
ISBN 978-86-88609-08-1
COBISS.SR-ID 228051212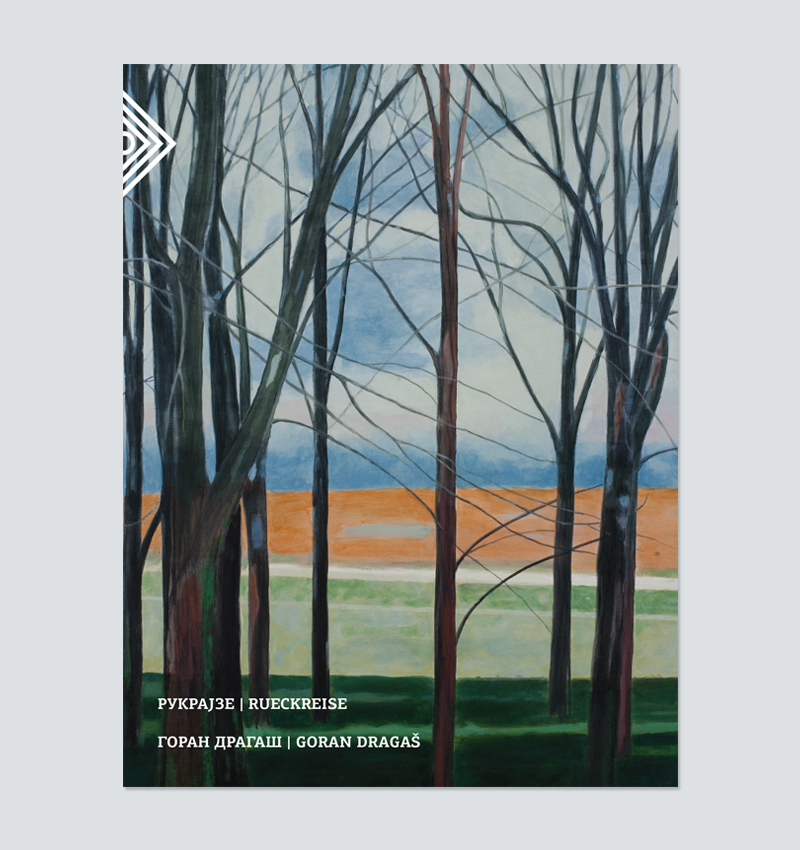 RUECKREISE
Cultural Centre of Belgrade, 2014
12 pages, Serbian/English
Text by Saša Janjić
The catalogue is published on the occasion of the eponymous exhibition in Gallery Podroom, Belgrade, Serbia