Višnja Petrović
































"The waves broke and spread their waters swiftly over the shore. One after another they massed themselves and fell; the spray tossed itself back with the energy of their fall. The waves were steeped deep – blue save for a pattern of diamond- pointed light on their backs which rippled as the back of great horses ripple with muscles as they move. The waves fell again, like the thud of a great beast stamping".
Virginia Woolf, WAVES
Since the very beginning of her presence on the art scene of Yugoslavia and Serbia, Višnja Petrović has been persistently on a quest for visual quietness, questioning her intimate perception on the limits of monochrome and factual emptiness.
Experimenting with different formats and materials has been Višnja's long lasting interest. In particular, in searching for illusive borders between self-dwindling visual information of the artefacts and their readability in the domain of aesthetics. In her early career she used to be attracted by the seductive charm of hand-made paper and sophisticated nature-inspired surface structure of such material, especially those of large formats.
Višnja Petrović has always been drawn to the minimalistic approach of fading colours. She has a special sensibility for geometrised drawings, with shadowed coloured areas. In spite of some elements of visual hedonism, Višnja in her pursuits has always kept proper balance between visual self-indulging sensibility and the dignity of rigor. 
The ultimate fingerprint of her artistic expression has been, and still is, very much related to her obsession with waves on the surface of water and their fascinating alternating dynamics. The observation on waves, provided in the preamble of this text, made by Virginia Woolf, would provide a glimpse into the reasons for this obsession.
In recent years, in the context of a long lasting interest in waveforms, Višnja made a gentle but decisive move towards a rather intimate perception of mathematical – geometric concepts (geometric catastrophes in two and three-dimensional objects). She also revisited her old interest in small industrially made objects upgraded with transparent structures (small, still, invisible) and photography with drawing interventions (intimate story of lines) as a part of her visual research inspired by the dynamics of waves.
NOTES ON CATASTROPHES
This is a research project of Višnja Petrović dealing with a visual interpretation of some mathematical objects, and more generally, an interplay between the art and math languages with many interleaved hidden layers, not always susceptible for immediate reading. 
In the period 2009-2018 Višnja has been exploring how to transform the syntax of mathematical objects called 'smooth singularities' into the sematic of an abstract art, within the framework of a project named NOTES ON CATASTROPHES. The theoretical framework of smooth singularities is largely known as "Catastrophe Theory" which explains the title of the subproject. This title also beautifully sublimes her personal testimony / confession on this interdisciplinary and interlanguage communication. Metal drawings, which resulted within the project NOTES ON CATASTROPHES, express a perpetual repetitiveness and variations of a small number of geometric models, offering possible space for meditative insight into the perception of visual movement. A seemingly monotone and restricted visual means are purposely chosen in order to reveal the inner meaning of wavy forms against a rigor of mathematical visual metaphors.
Exploring an interplay between art and math languages came as a result of her perception that these two disciplines share inherent properties: an asceticism of forms and self-indulgence in keeping inner discipline. These properties are also recognisable characteristics of the whole artistic opus of Višnja Petrović, from her early quests for transcendental passages from one nuance of gray/white to another, to the metal drawings represented in this project.    
SMALL, STILL, INVISIBLE
In the late eighties and early nineties, Višnja Petrović has been exploring small objects through an interplay between materials and forms (under the two general titles: "Body" and "Soul"). It was a rather hedonistic experiment and solitary walk through the matter. Surprisingly enough, last year Višnja realised that her interest for the small abandon industrially made objects, upgraded with architectures made of transparent material capturing light, still matters today. In particular it resonates with her everlasting quest for fading lights coming from the inner space of objects, as a metaphor of the very idea of life.
The rationales behind the objects created in 2019, although seemingly looked as a space revisited, is essentially different. The current project SMALL, STILL, INVISIBLE is a result of a mature intimate narratives, not bounded with any rigid ideology or spoiled with unnecessary reference to a formal values or efforts to comprehensively control the artefact in the space.   
INTIMATE STORY OF LINES
This project, emerged as a therapeutic way-out in dealing with an unwilling isolation during winter/spring 2020, caused by covid19 pandemia. The main idea behind was to experiment with lines and their interplay with dynamics of waves.
In the last six-seven years, in various circumstances, Višnja has been taking a series of photographs in connection with her fascination with water surfaces. The project INTIMATE STORY OF LINES reveals various facets of water surfaces interplaying with drawing interventions based on repetitive routine of free hand line drawing over the photographs.
Overwriting photographs by a dense structure of perpetual lines, is also an attempt to revive the frozen rhythm of waves and create a misty veil, partly annihilating the substance of the ground of the scene. Compulsive repetitiveness and the apparent absence of visual sharpness have always been a recognisable part of the author's sensibility, with the line as dominant visual and existential pillar. 
Read More Close
VIŠNJA PETROVIĆ
Born 1960 in Novi Sad (former Yugoslavia), Serbia
Lives and works in Novi Sad, Serbia
EDUCATION
1987   MA in Painting from the Belgrade Faculty of Fine Arts
1984   BA in Painting from the Belgrade Faculty of Fine Arts
SOLO EXHIBITIONS
2019
Small, Still, Invisible,  MALI LIKOVNI SALON, Culture Centre of Novi Sad, Novi Sad, Serbia
Notes on Catastrophes, Gallery of Contemporary Fine Arts Niš, Niš, Serbia
2018
Notes on Catastrophes, Gallery of Cultural Center of Zrenjanin, Zrenjanin, Serbia
Notes on Catastrophes, Gallery Lucida, Beograd, Serbia
2017
Notes on Catastrophes, Gallery of Fine Arts – Gift Collection of Rajko Mamuzić, Novi Sad, Serbia
1996
Gallery of Student Cultural Center, Belgrade, Serbia
1995
Contemporary Gallery, Zrenjanin, Serbia
Museum of Contemporary Art of Vojvodina, Novi Sad, Serbia
1991
Gallery of Belgrade Youth Centre, Belgrade, Serbia
1988
Gallery Cultural Centre of Novi Sad, Novi Sad, Serbia
1987
Gallery of Faculty of Fine Arts, Belgrade, Serbia
SELECTED

GROUP EXHIBITIONS
2018
4th Biennial of Visual Art, Library – Open Book of the Balkans – Dialog, Archive, Čačak, Serbia
14th International Biennial of Miniature Art, Gallery of Cultural Centre, Gornji Milanovac, Serbia
2014
Exibition of The Faculty of The Academy of Arts, Gallery of Fine Arts – Gift Collection of Rajko Mamuzić, Novi Sad, Serbia
Premonition, Blood and Hope – Art in Vojvodina from 1914 to 2014, Kunstlerhaus, Vienna, Austria
2012
Temporary History, Museum of Contemporary Art of Vojvodina, Novi Sad, Serbia
2011
Collection of small drawing of Academy of Arts, Pavle Beljanski Memorial Collection, Novi Sad, Serbia
2009
Three small dialogues, Cvajner Gallery, Pula, Croatia    
2008
Art in Vojvodina today, Modern Art Gallery "Artists encounters", Subotica, Serbia
Art in Vojvodina today, Museum of Contemporary Art Voivodina, Novi Sad, Serbia
2002
Sublime Objects – examples of fine art in Yugoslavia at the end of 20th Century, Novi Sad, Serbia                                          
The Tradition of Tautology – plastic norms of non-finite, Museum of Contemporary Art of Vojvodina, Novi Sad, Serbia
2001
4th Biennial of Watercolour, National Museum, Zrenjanin, Serbia
2000
2nd Biennale of sketches and projects, Center for visual culture "Golden Eye", Novi Sad, Serbia
The Iwano Project, Novi Sad Open University Gallery, Novi Sad, Serbia
6th International Biennial of Miniature Art, Cultural Center Gornji Milanovac, Gornji Milanovac, Serbia 
1999
4th Belgrade Biennial of drawings and small plastics, Art Pavilion "Cvijeta Zuzorić", Belgrade, Serbia
2nd Biennial of Sketches and Center Projects, Center for Visual Culture "Golden Eye", Novi Sad, Serbia
1998
Art and Paper, Art Salon of City Cultural Center, Čačak, Serbia
25 Years of Art Academy in Novi Sad, City Gallery- Spens, Novi Sad, Serbia
1997
Visible/Invisible, Yugoslav Contemporary Art, Helexpo (Pavilion 1), Thessaloniki, Greece
Universal-Regional, Gallery of Contemporary Art, Pančevo, Serbia
1996
Painting Substance, Center for Visual Culture "Golden Eye", Novi Sad, Serbia
Discrete Modernism, Center for Visual Culture "Golden Eye", Novi Sad, Serbia
Choice 93, Art Pavilion "Cvijeta Zuzorić, Belgrade, Serbia
1995
Paper-Form, Gallery of Serbian Art Association, Belgrade, Serbia
Energies – Examples of Actual Appearences in Art Scene of Voivodina, Konkordija, Vršac, Serbia
2nd Belgrade Biennale of Drawings and Small Plastics, Art Pavilion "Cvijeta Zuzorić, Belgrade, Serbia
Examples of Monochromatic Painting in Vojvodina, Gallery of Vojvodina Art Association, Novi Sad, Serbia
Small Spring Annale, City Art Salon, Čačak, Serbia
Salon 9, Art Gallery of National Museum, Kragujevac, Serbia
1994
1st Yugoslav Bienial Exibition of Young Artist, Konkordija, Vršac, Serbia
Acctuality in Painting  Scene of Vojvodina from 1973 to 1993, Gallery of Contemporary Art, Novi Sad, Serbia
Exibitiion of The Faculty of Academy of Arts, Gallery of Matica Srpska, Novi Sad, Serbia
1993
Horizontal-Vertical Line, Conflicts and Harmony, Gallery of Contemporary Art, Novi Sad, Serbia
Private – Public, Gallery VLV, Novi Sad, Serbia
Early Nineties, Gallery of Contemporary Art, Novi Sad, Serbia
1st Biennale of Yugoslav Watercolour, Contemporary Gallery, Zrenjanin, Serbia
1st Belgrade Biennial of drawings and small plastics, Art Pavilion "Cvijeta Zuzorić", Belgrade, Serbia
View 93, Gallery ULUS, Belgrade, Pančevo, Serbia
34th October Salon, Museum of 25th May, Belgrade, Serbia
1992
Acquisitions, Gallery of Contemporary Art, Novi Sad, Serbia
1990
25th Zagreb Salon of Fine Arts, Zagreb, Yugoslavia
10th Trienale of Yugoslav Drawing, Gallery of Fine Arts, Sombor, Novi Sad, Yugoslavia
1989
Spring exibition of Association of Fine Artists of Serbia, Art Pavillion "Cvijeta Zuzorić", Belgrade, Yugoslavia
15th Biennial of Young Artists of Yugoslavia, Modern Gallery, Rijeka, Yugoslavia
Yugoslav Documents '89, Olympic Center Skenderija, Galleries of the city of Sarajevo, Sarajevo, Yugoslavia 
The Primacy of Picturalism, The End of Decade, Time of Synthesis, 29th Automn exibition, Modern Art Gallery "Artists encounters", Subotica, Serbia                
1987
Galery of ULUV, Novi Sad
Magistar's Exibition of The Faculty of Fine Arts Belgrade, Galery of JNA Centre, Vrbas, Yugoslavia   
Youth Palett, Galery of Cultural Centre Vrbas, Vrbas
Exibition of Voivodinian's Painters, Graz, Austria
6th Exibition, Gallery of Yugoslav Portrait, Tuzla, Yugoslavia         
16th Novi Sad Salon, Galery of Cultural Centre, Novi Sad, Yugoslavia         
1985
Prize-winning Student Exhibition, Gallery of The Faculty of Fine Arts, Belgrade, Yugoslavia
1984
Perspectives 12, Yugoslave Art Galery, Belgrade, Serbia
AWARDS
2018   Special Recognition awarded by the 14th International Biennial of Miniature for Intermedia, Gornji Milanovac, Serbia
1998   First Prize for Drawing, Novi Sad October Salon, Novi Sad, Serbia
1993   First Prize for Painting, Serbia Biennale of Yugoslav Watercolour, Zrenjanin, Serbia
1990   First Prize for Painting, Novi Sad October Salon, Novi Sad, Serbia
STUDY VISITS
France, Italy, UK, Germany, Greece, Spain, Netherlands, Austria, USA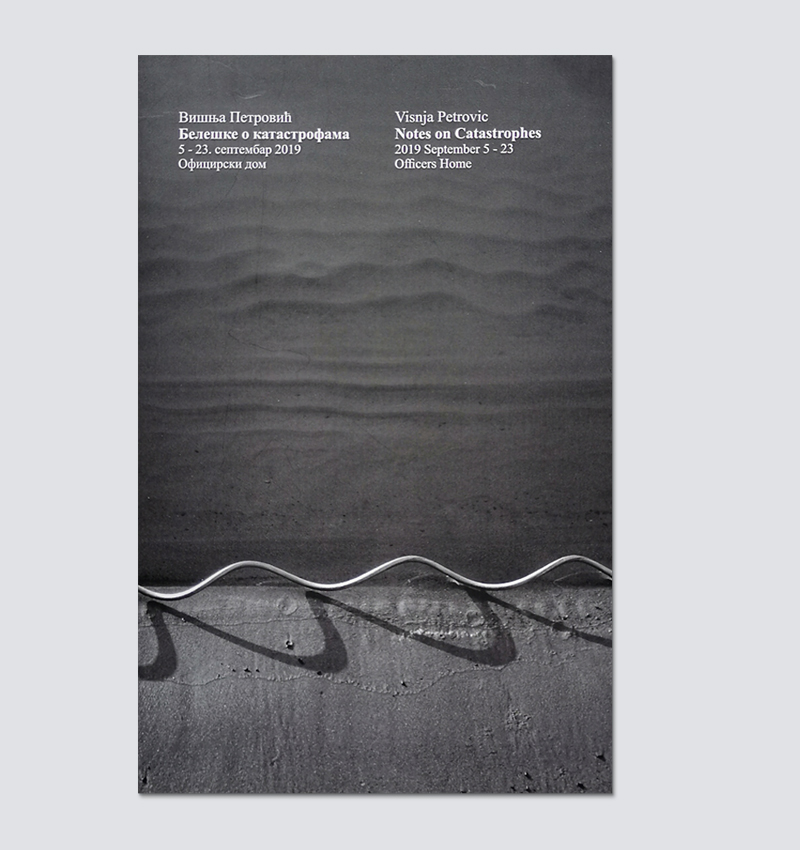 NOTES ON CATASTROPHES
Gallery of Contemporary Fine Arts Niš, 2019
Serbian/English
ISBN: 978-86-7740-141-2
Published on the occasion of the eponymous exhibition in Gallery of Contemporary Fine Arts Niš, September 5 – 23, 2019
BELEŠKE O KATASTROFAMA
Gallery of Fine Arts – Gift Collection of Rajko Mamuzić, 2017
36 pages, Serbian/English
ISBN: 978-86-85365-80-5
COBISS.SR-ID 317706503
Text by Ladislav Novak
Published on the occasion of the eponymous exhibition in Gallery of Fine Arts – Gift Collection of Rajko Mamuzić, Novi Sad, September 25 – 27, 2017
SMALL, STILL, INVISIBLE
Cultural Center of Novi Sad, "Mali likovni salon" Gallery, 2019
12 pages, Serbian/English
Exhibition catalog
ISBN: 978-86-7931-735-3
Text by Višnja Petrović
English translation: Ladislav Novak
Photography: Jovan Milinov